Want a new and different recipe for summer? Have fun with the kids, and enjoy a tasty lunch!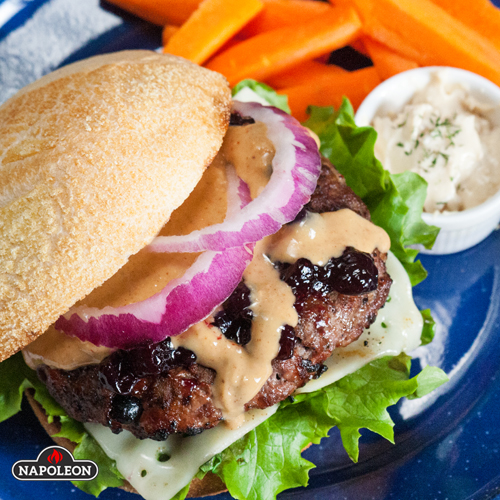 INGREDIENTS
1 lb. ground pork
1 lb. ground venison (ground beef will do but its not as good)
2 tsp. thyme
1 tsp. umami paste
3 tbsp. black currant jelly
1 tbsp. Worcestershire sauce
pinch of red pepper flakes (optional)
buns
peanut butter (try our recipe for homemade, or use something natural like Adam's)
lettuce
sliced red onion
mild cheese like swiss
DIRECTIONS
Step 1
In a large bowl, combine the meat with all of the seasonings. For best burger results, make sure that the meat is as cold as possible without being frozen. Using the Napoleon Gourmet Burger Press Kit, form the meat into at least four patties, laying them on a tray lined with waxed paper. Chill in the fridge for at least 30 minutes.
Step 2
Preheat your grill to between 450°F and 500°F. Before you lay down the burgers, brush the grids with a high temperature oil like peanut, coconut, or even shortening.
Step 3
Grill the burgers for 7 to 8 minutes per side, flipping once. Use a meat thermometer to ensure that they are cooked fully to 160°F.
Step 4
Feel free to toast the buns for added yumminess. Lay down a slice of lettuce, followed by a slice of cheese and the burger. Top the burger with some more black currant jelly and loads of peanut butter, and a slice or two of red onion too. Take a big bite!